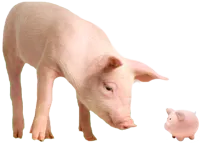 1. Payment is expected when services are rendered. In order to focus on our patients' needs, customer service, and minimizing costs, we do not bill. We are a small clinic and are unable to support accounts receivable.

2. We accept debit cards, credit cards (Visa, Mastercard, Discover, American Express), checks, money orders, and cash. All cards must be signed by the owner of the card.

3. When unexpected illness strikes a pet, unexpected expense strikes as well. Gooding Vet understands this and is able to make some special arrangements through the CareCredit program. It takes just 5 minutes to complete an application and will allow you to break down your payment into 6 monthly installments. You can call in your application over the phone for immediate approval or apply online at www.CareCredit.com.
4. In addition to accepting the CareCredit credit card, Gooding Vet also accepts ScratchPay. ScratchPay is not a credit card. It is a personal loan. Checking your plan option will NOT affect your credit score. ScratchPay approves more pet parents, with affordable rates. There are no hidden fees, no pre-payment penalty, and no deferred interest. Find your payment plan at www.ScratchPay.com.

5. For those wellness events that can be planned, we offer pre-payment plans. We will create an estimate for your pet's needs and you can pay as much or as little as you have, when you have it. Once the estimate has been paid the services will be rendered. These plans are non-transferable between pets, services, or clients and are non-refundable. Planned services may include: New puppy vaccination package (3 sets of vaccinations, deworming, physical exam), adult wellness (physical exam, vaccinations, fecal float +/- deworming), geriatric wellness (physical exam, bloodwork, vaccinations, fecal float +/- deworming), dental cleanings (pre-anesthetic bloodwork, anesthesia, full oral exam, prophylaxis).
6. We highly recommend pet insurance! Pumpkin pet insurance from Zoetis helps you say 'yes!' to the best care. When they're sick, insurance helps you get the diagnostics, treatment, and medicine they need to get better. When they're hurt, insurance helps you give them the emergency care, surgery & rehab therapy it takes to recover. When they're healthy, Pumpkin's preventative care pack helps you keep up with yearly check-ups, vaccines & lab tests that keep them healthy. Go to www.Pumpkin.care to get a quote today! You have 14 days from the date of your pet's vet visit to apply and submit a claim.